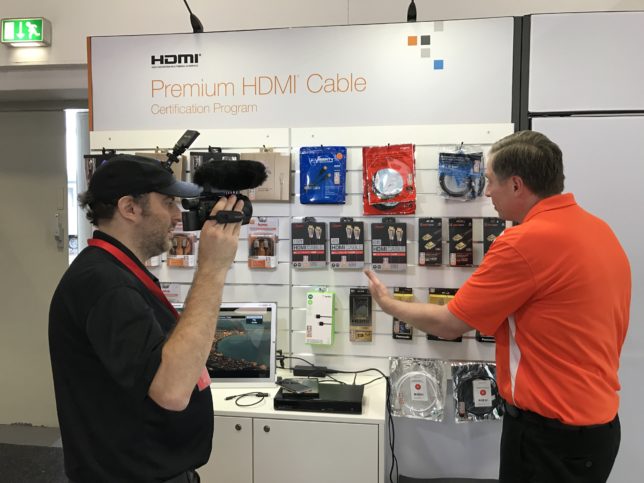 IFA 2017 Features HDMI Technologies Along with Launch of Premium USB Type-C to HDMI Cables
Back on the road again, the HDMI LA Team was demonstrating the latest HDMI technologies at the 2017 IFA in Germany. One of the highlights at June's Computex show was a selection of USB Type-C to HDMI cables. Now at IFA that was augmented by the first of those cables to be part of the Premium HDMI Cable Certification Program, and their packaging displayed the program's unique authentication labels.
Also featured at the booth were demonstrations of HDMI Alt Mode enabled source devices connected to 4K HDMI displays with the new cables. These sources are able to utilize HDMI technology and features and also connect directly to HDMI displays without the need of adapters or converters. Information was also available for the upcoming HDMI 2.1 specification release.
Ongoing press briefing sessions and interviews were taking place at the booth, and HDMI Adopters and manufacturers scheduled meetings and dropped by to meet the HDMI LA team. The HDMI LA Team included: Rob Tobias, President and CEO; Jeff Park, Director of Technology; and Val Robbins, Marketing and Events Specialist.
Photo above: Rob Tobias shows off a selection of Premium HDMI Cables including top European brands HAMA and Avinity to the media.
Brad Bramy

September 06 2017